In The Community

---
firmus energy is proud to be actively involved in communities across Northern Ireland.
We recognise that the local areas in which we operate are fundamental to the future of our business and its people.
2019 Charity of the Year - Children's Hearbeat Trust
In 2019 firmus energy raised £14,241.18 for their 'Charity of the Year' the Children's Heartbeat Trust which has gone to supporting families throughout this process, removing a major financial barrier for many families.
firmus energy has undertaken to raise these much needed funds included the Mourne Mountain Challenge which saw 12 firmus energy team members climb 2 of the 6 highest peaks in the Mournes - Slieve Donard Northern Ireland's highest summit at 853m / 2,798ft and Slieve Commedagh 765m/2,509ft. Other activities included a 'Hearty Tea Party' and firmus energy bake off.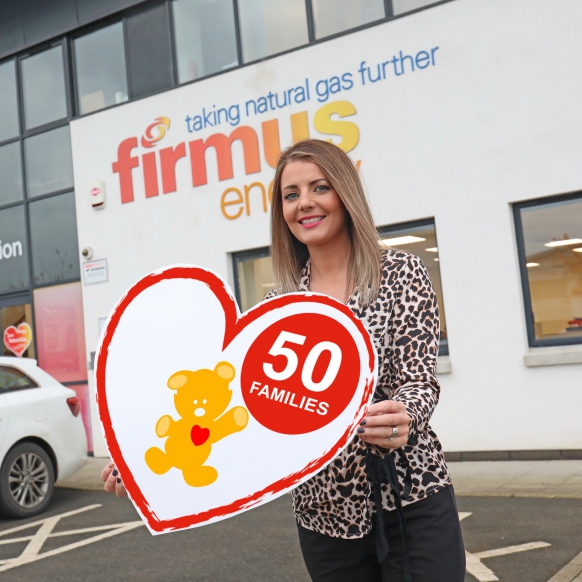 2018 Charity of the Year - Lighthouse
firmus energy nominated Lighthouse Belfast as its 'Charity of the Year' in 2018 and raised a total of £17,500. The money which was initially fundraised by employees was later matched by management to further enable the charity to carry out its life saving work.
The staff took part in various CSR activities such as staff workshops, team building exercises, sponsored walks and coffee mornings. And it didn't stop there – some staff members took on the gruelling, physical challenge of competing in triathlons and marathons, all with the aim of raising vital funds to aid this lifesaving work.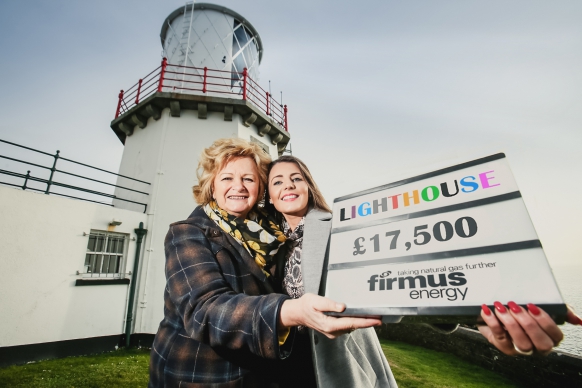 2016 / 2017 Charity of the Year - Sands NI
firmus energy raised £8,500 for Sands NI by holding Bake Off competitions, fancy dress days, and leaving collection boxes at various locations around the office. Some of the team even raised thirteen hundred pounds by completing a 15 mile Mourne Challenge in June.
Sands NI specialises in supporting parents and families who have lost their child before, during or after birth and is currently raising funds to build a bereavement suite in Antrim Area Hospital.

2014 Charity of the Year - CLIC Sargent
The activity started early in 2014 with 15 staff members committing to run the RiverRock Belfast City Marathon for our Charity of the Year, CLIC Sargent. Thanks to the fantastic support of colleagues, friends and family, almost £2,000 was raised which was then matched pound for pound by firmus energy giving a grand total of £4k for this one event. Throughout the year other fundraising days, lead by other employees have helped gather much needed funds for the charity and the overall presentation cheque was written for £13,000 at the end of 2014.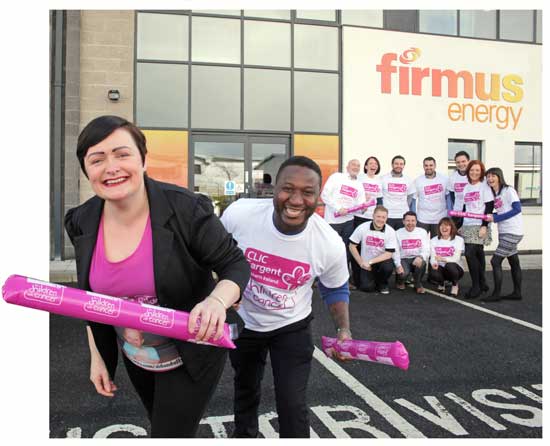 Warming Communities
firmus energy's 'warming communities' campaign went from strength to strength in 2014 with over half of firmus energy staff members taking part in local community clean up days in Happitots Playgroup, Cullybackey and the Giant's Causeway, Bushmills.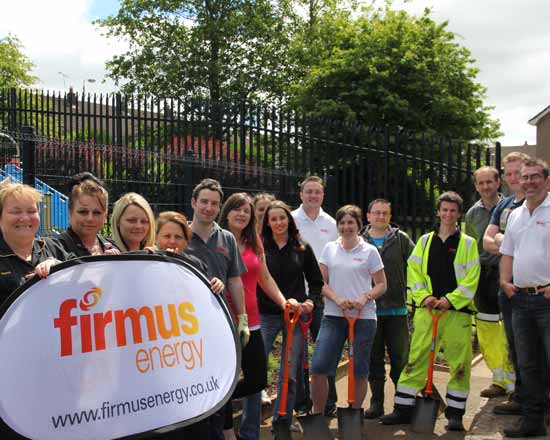 Other Donations
firmus energy has been involved in a number of other community schemes including the BITCNI's 'Time to Read' initiative which paired volunteers with Key Stage 2 children (P5-P7). To wrap up the year firmus donated £2000's worth of toys to St Vincent de Paul and Salvation Army for their family appeal. firmus energy's CSR strategy fully embraces the company's values of clarity, empathy, integrity and teamwork and our staff are dedicated to making a difference in our local communities.. firmus energy's CSR strategy is fully based on its company's values; clarity, empathy, integrity and teamwork.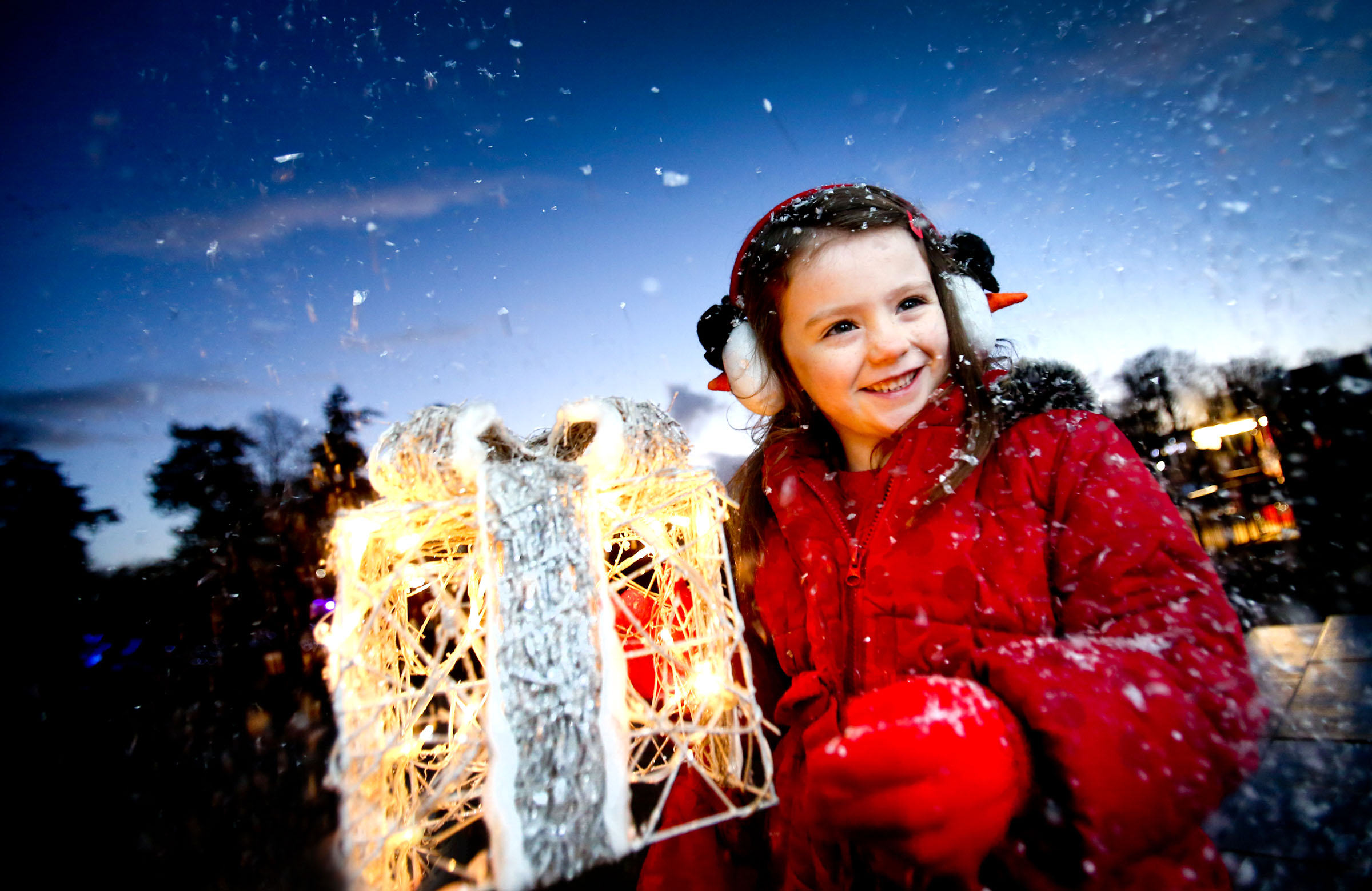 Schools
firmus energy offer safety talks to schools that we are working near. This talk is aimed at primary 4 through 7 children and is designed to explain the risks of playing on, or with our pipes and general health and safety around any building site. The visit lasts an hour and the children receive special goodies afterwards. Or as an alternative to a visit, firmus energy offer informative worksheets (see below) for both key stage 1 and 2 pupils. These colourful, engaging worksheets highlight the dangers of playing on gas pipes and educate children about natural gas through crosswords, word paths and a colouring section for younger pupils.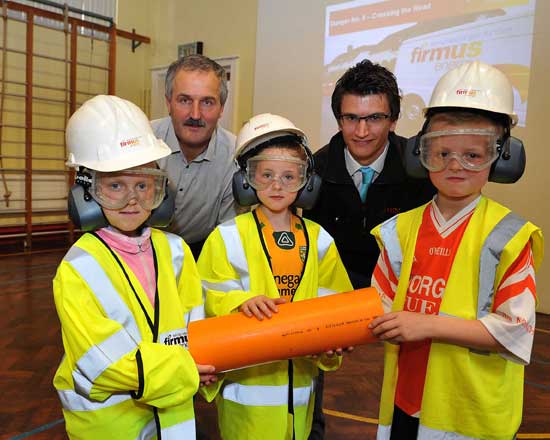 For more information on our schools talks, please contact
Pamela Beatty: pbeatty@firmusenergy.co.uk