Preparing for a greener future

NI Gas Network Pathway to Net Zero

The Pathway to Net-Zero charts out how the gas network will transition away from natural gas to renewable alternatives such as Biomethane and Hydrogen to support Northern Ireland's emission targets.

An online version of the full Pathway to Net Zero document can be downloaded here
We're focused on helping homeowners and businesses make better energy choices, driving decarbonisation and supporting the Government's green agenda.
Our existing network is suitable for the injection of sustainable gases now and in the future.
The environment

Energy users switching from home heating oil to natural gas reduce their carbon emissions through the introduction of a carbon cleaner fuel and the associated efficiencies of a highly efficient natural gas boiler and controls. These are impressive carbon savings that complement the lifestyle and convenience benefits that make moving to natural gas a desirable home improvement.

The gas industry recognises the importance of energy efficiency in delivering a low carbon economy and the importance of continuing to educate consumers on the role both technically innovation and behavioural changes can have on reducing energy use.

.

Our network

Northern Ireland has one of the most modern and efficient natural gas networks in the world. firmus energy's natural gas network is constructed from Polyethylene (PE) pipework which means they will be able to accept Bio methane and Hydrogen in the very near future with the result that our network will play a significant part in Northern Ireland transitioning towards net zero carbon by 2050.

The future

By the end of 2022, there will be c.550,000 properties in Northern Ireland with access to natural gas and it is estimated that c.320,000 homes will have taken the opportunity to connect to the gas network. This has the potential to reduce the amount of CO2 in the atmosphere by 1.1 million tonnes per year - the equivalent of taking 700,000 cars off the road each year.
The steps we are taking to decarbonise heat in Northern Ireland
2020 - 2050
Phase 1 (From now)

Maximise household heating conversions from oil to natural gas, reducing carbon emissions by up to 52%*

Phase 2 (From now)

Facilitate transport fuel change and the decarbonisation of natural gas in the networks.

Facilitate Bio methane injection into the existing natural gas network. Injecting Bio methane produced from Anaerobic Digesters into the existing gas network is a practical way to further 'green' the natural gas we use whilst also helping to address the high level of greenhouse gases attributable to the Agri sector in NI.
Facilitate compressed Natural Gas (CNG) for HGVs and Buses. With around 25% of transport greenhouse gases produced by HGV's and buses. Compressed Natural Gas refuelling stations can be connected to the existing natural gas networks and provide an effective alternative to high polluting petrol and diesel commercial vehicles.
Facilitate the blending of hydrogen into the existing natural gas network. Trials are already well underway across the natural gas industry in the UK to blend natural gas with Hydrogen, which produces zero carbon at the point of use, into the existing network which would offer further carbon savings without the need for any change to consumer behaviour appliances. Further advancement in this area could eventually see natural gas networks carry full Hydrogen solutions, removing carbon from the network entirely.

Phase 3

Delivering Net Zero Carbon. Following the period of commercial and technological development (2020 -2030) the next phase in Northern Ireland's energy transition should be the implementation of new, long term and net zero carbon technology to deliver net zero carbon emissions.
A partnership approach
The company is an active member of the Northern Ireland Natural Gas Operators group who discuss and agree the strategic options and future use of the natural gas assets to facilitate Northern Irelands transition to net zero
Driving forward with Biomethane

At firmus energy we are on a drive to reduce emissions in our daily operations and are delighted to welcome our first biomethane powered van to our maintenance fleet. We teamed up with Granville Eco Park in Dungannon to provide the first biomethane van and renewable fuel for our latest initiative.

firmus energy's maintenance fleet operates across it's 1,850km pipeline in Northern Ireland offering essential services 24/7/365.

firmus energy is proud to be partnering with Granville Eco Park and pushing forward with innovative solutions to address the climate emergency.

Sustainability is at the heart of our organisational efforts

Eric Cosgrove has been firmus energy's Director of Engineering since 2013. In 2020 his role was broadened to Director of Engineering and Sustainability to deliver on the company's sustainability ambitions with a particular focus on introducing hydrogen and Bio methane, along with other emerging technologies, into the company's natural gas network so it can continue to play a pivotal role in helping Northern Ireland transition towards Net Zero Carbon. His ongoing work will be pivotal to the company delivering on its low carbon goals.

Reducing our business carbon footprint at firmus energy

At firmus energy we are committed to reducing our business carbon footprint. Our total carbon emissions in 2019 was 125 tCO2e. This comprises of the energy we use at our Head Office, located in Antrim and emissions created by our employee's driving for business. We have continually improved our carbon emissions year on year by introducing a number of energy savings initiatives within our offices which now includes purchasing 100% renewable electricity and the installations of electric vehicle recharging points.

Energy efficiency

firmus energy is the only utility company in the UK to put all 100% of staff through City & Guilds Energy Awareness Training and conduct a number of consumer energy awareness programmes each year. We recognise the quickest and cheapest way to achieve carbon and savings is to use less fuel. By reducing energy consumption at home, we can directly reduce the impact of carbon emissions on our environment.

Smart controls

Many homeowners are adopting smart control technology for sustainability, convenience and affordability reasons. Smart controls allow homeowners to adjust the times at which the central heating turns on or off from anywhere, even outside the home. They also feature additional control options including boost and override heating controls giving homeowners full control of their energy, reducing energy consumption even when not at home.

EPC (Energy Performance Certificate)

Insulate your home to retain the heat. Make sure your home is well insulated to retain the heat. An EPC (Energy Performance Certificate) will give you a good indication of how well your house is doing this. The results could target a range of work that could be completed to improve your home's EPC, from small measures to retrofits.

Boiler servicing

Save on your energy costs. Keeping your boiler well serviced and maintained means you could save you money on your energy costs. It is independently recommended to service your boiler annually.
Our work with Councils
Consultations between senior firmus energy representatives and Councils situated in its 'Ten Towns' network area began last year. At the high level discussions firmus energy outlined how its network of pipes can be used in reaching net zero carbon by transporting renewable gases in the form of Bio methane or Hydrogen directly to domestic and business customers.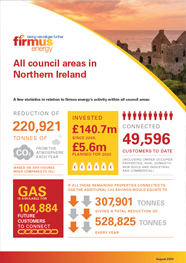 | | |
| --- | --- |
| | |
| | |
| | |
firmus energy in the news
New management appointments made to further sustainability goals.

Eric Cosgrove - Director of Engineering and Sustainability

Working with communities to promote energy savings. Learn More
Transitioning to the future
firmus energy is committed to carving a greener future for decades to come and our natural gas infrastructure has a key role to play in getting Northern Ireland to net zero. This video takes a closer look at hydrogen and its potential to tackle the hard-to-decarbonise sectors – heavy industry and domestic heating.
To view our environmental policy statement click here.
**Based on switching your home heating system from a 15-year-old Sedbuk F oil boiler without controls to a new Sedbuk A natural gas boiler with heating controls.