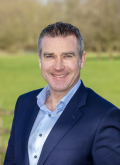 Niall Martindale
Interim Managing Director
Niall Martindale is Interim Managing Director at firmus energy. With 15 years of experience working in Northern Ireland's regulated energy industries, Niall joined firmus energy in 2015 as Director of Regulation and Pricing, where he was responsible for company compliance to supply and distribution regulatory requirements within the terms of firmus energy's license arrangements.
In 2021, he was appointed Interim Managing Director where he is responsible for delivering firmus energy's business strategy in line with the company's core values of clarity, empathy integrity, and teamwork.
A graduate of the University of Ulster, Coleraine where he studied BSc (Hons) Science with Business, Niall also holds a number of professional APICS qualifications.