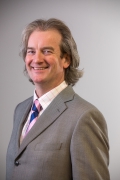 Michael Scott
Managing Director
Michael Scott is Managing Director of firmus energy. He has over 20 years' experience working within the natural gas industry in both GB and NI and has held senior positions within engineering, business planning and regulatory affairs.
Michael joined firmus energy in 2006 as Regulatory Affairs Manager and subsequently Head of Business Development where he was responsible for business regulation, transportation services, gas purchasing, systems development and customer operations. He was responsible for managing firmus energy's entry into the electricity market.
In 2012 he was appointed Managing Director where he is responsible for delivering firmus energy's business strategy in line with the company's core values of clarity, empathy integrity and teamwork.