Billing & Payments

---
I don't think the amount shown on my bill is correct, what should I do?
Check your meter reading matches what is shown on your bill.
Make sure the meter reading on your bill is an actual reading and not an estimate. You can submit a meter reading in a number of different ways;
1. Online: through 'my account', (you must be registered to avail of this option) or by email to billing@firmusenergy.co.uk
2. Call: 0330 024 9000 Option 2 then Option 1. leave your meter reading on our automated service.
3. If your meter reading is correct, it is possible that the amount of energy you are using has changed.
Understanding your firmus energy natural gas bill
1. Billing Period - The first and last date of the current billing period.
2. Date of Issue - The date your bill was issued.
3. Account No. - Your customer account number.
4. Details - Your name and address.
5. Meter No. - Your meter number.
6. Meter Readings - Your present and previous meter readings.
If the figures shown are followed by 'A', an adjustment has been made to your previous bill. 'C' is a read provided by you. 'E' is an estimated read.
7. Units - The figure represents the number of units in cubic meters (m3) which you are being billed for (the difference between your current and previous meter readings).
8. Conversion Factor - The conversion factor used to convert the gas from cubic meters to kilowatt hours (kWh).
9. kWh - The figure in kWh for which you are being billed.
10. Gas Consumption - The amount of gas used this year in comparison to the amount of gas used last year over the
same period.
11. Last Bill Balance - This is the balance brought forward from your last bill.
12. Monthly payment - If you pay by direct debit these show the monthly payments you have made.
13. Band 1 Rate - The band which you are being billed at for the first 500kWh each quarter. Customers must pay for a minimum of 419.5kWh per quarter.
14. Band 2 Rate - The band which you are being billed at for consumption over 500kWh each quarter.
15. VAT @ 5% - VAT charged to account @ 5%.
16. Direct Debit Discount - This is the discount you will receive each quarter by paying for your gas via direct debit.
17. Payment Amount Dates - If you pay by monthly direct debit these show future dates and amounts of your payments.
18. SMP - Stands for supply meter point. This is the unique number which relates to the natural gas connection to your property.
19. Total Amount - If you pay by cash or variable direct debit, this is the amount due to be paid 14 days from the date on the bill. This is the currrent balance if you pay by monthly direct debit.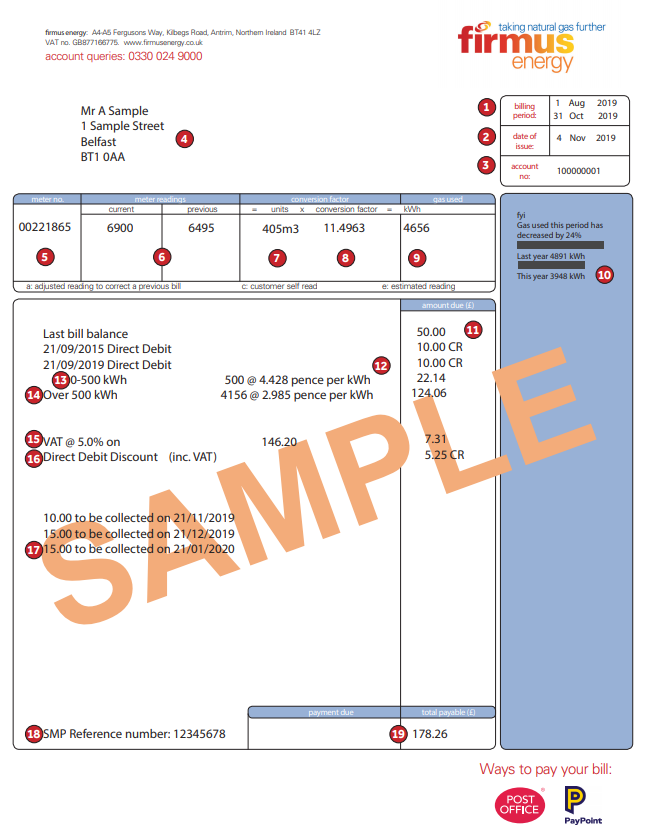 Check out our handy guide to understanding your firmus energy natual gas bill [PDF-200kb]
Still got a question?
You can email: billing@firmusenergy.co.uk or by calling our freephone number: 0330 024 9000
---
The response time for reply to your query is 24 hours (Excluding weekends and Bank Holidays).
If you have an Urgent Query, please contact our customer services team on: 0330 024 9000