Connecting to firmus energy

---
firmus energy natural gas Installer Charter
Introduction
firmus energy is responsible for gas installations up to and including the meter (known as upstream). Everything from the gas meter to the natural gas appliances (known as downstream) must be completed by a Gas Safe Registered Installer – this is a legal requirement and is the responsibility of the customer
Any installation must be undertaken by a Gas Safe Register Installer. This is the official list of gas engineers who are registered to work safely and legally on boilers, cookers, fires and all other gas appliances. The aim of this charter is to provide a level of service above and beyond the legal safety standards, ensuring our firmus energy registered installers work in line with our company values, complementing our Customer Charter
firmus energy deliver natural gas to towns outside of Greater Belfast via two main pipelines – 'North-West' which takes natural gas up to L/Derry and 'South-North' which takes natural gas down to Newry. The gas network is being constructed on a commercial basis, our aim is to lay mains pipes which are economically viable. We carry out regular assessments on areas for future development and we aim to take gas to concentrated areas where the anticipated uptake is highest. This means that as will not be available in every street
firmus energy aim to continuously improve the service we offer, by listening to customers and acting on what they tell us. Our customer charter sets out what our customers can expect from us and what we expect from them – it is available at www.firmusenergy.co.uk/about-us/customer-charter

Our Mission: Take natural gas further
Our Vision: Deliver our Mission via core values Clarity, Empathy, Integrity and Teamwork by putting customers first.
We aim to bring the benefits of natural gas, safely, cost efficiently and where economically viable, to the widest number of industrial, commercial and residential customers. We aim to do so by working with external stakeholders, customers and professional, well motivated staff. Together we will deliver a safe, efficient and increasingly valuable gas distribution network
Our Strategy
Distribution
W Work existing assets (gas infrastructure)
I Infill residential areas
N Take our network into New Areas – for Commercial and Residential customers
Supply
Understand customer needs, help customers understand the value of what we are offering in terms of quality and service Make a return on the significant investment, made to date, in brand and customer service through margin management Seek to optimise new customers across all gas markets, with the proviso that switches and newly connected customers make a positive £ contribution to the business
Values
At firmus energy, we believe the best way to create a culture to be proud of is by living the values that are closest to our hearts. Our four values reflect what we are, how we do things, and where we increasingly want
to be
Empathy: We put our customers first. We deliver great customer service by focusing on understanding and meeting our customer's needs simply, efficiently and courteously
Clarity: We keep it simple. We listen carefully and communicate clearly. We aim for a shared understanding
Integrity: We are open and honest and won't let you down. We work in an ethical and straightforward way and honour commitments and promises we make
Teamwork: We work together as one team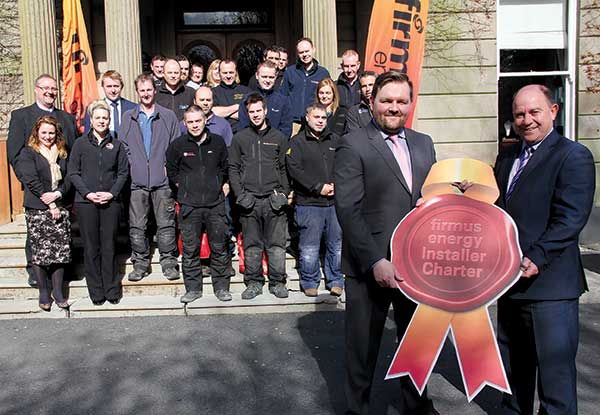 What installers can expect from us:
1. We will encourage customers to use firmus energy registered installers
2. We will provide potential customers with an installers list for their area, giving each installer equal coverage
3. We will provide support materials to facilitate quotations and installations
4. We will make prompt payments for completed claims, subject to inspections
5. We will provide information on connectable properties and future developments
6. We will provide support to all installers for events, sales & marketing initiatives and business development
7. We may offer a connection, where gas is readily available, within 30 working days from when the customer accepts our terms and conditions. If we cannot provide a gas supply, we will be upfront and explain the reasons why
8. We will arrange installation of service pipe work and fit the gas meter according to firmus energy's connection policy, making good any reinstatement within 5 working days following connection
9. We will take responsibility for issues raised by existing or potential customers, whether they are directly about our service or that of our contractors or associates
10. We will resolve complaints quickly and efficiently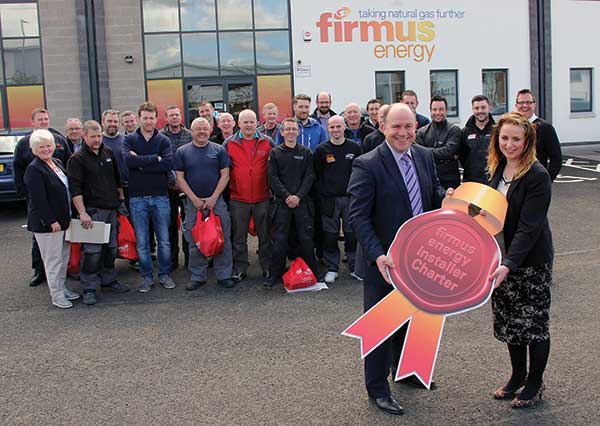 What we expect from our Installers:
1. Treat customers and their homes with courtesy and respect
2. Carry current Gas Safe Register identification cards at all times. Installers will abide by all gas safety and building control regulations at all times, taking reasonable steps to maintain and develop professional competence
3. Provide honest advice on all jobs (using firmus energy presentation booklets and quotation pads), making clear the options available and encouraging the use of energy saving measures. Offer itemised pricing for any work quoted, delivering written quotations within three working days (10 working days for any non-standard installations) and follow-up calls/emails within two weeks
4. Complete installations within 30 days of meter fit, advising firmus energy if any time extension is required. Carry out quality installations, removing spoil, including oil tank & cylinder (if requested by customer)
5. Invoice all incentives & schemes within 30 days of completion
6. Maintain up to date knowledge of funding support including firmus energy's incentive and connection policies. Seek approval from firmus energy before producing any materials bearing the firmus energy logo
7. Follow suggested system specification when replacing boilers, installing SEDBUK A rated boilers (min. two year warranty), chemically cleansing & inhibiting systems, balancing heating systems and fitting magnetic filters (or suitable alternatives). Ensure that properties converting to natural gas are improving energy efficiency - fitting TRV's, Programmers & Room Thermostats, as necessary
8. Ensure all multiple occupancy properties have downstream pipe work "tagged" with property details
9. Complete the benchmark log book to prove commissioning of the appliance & leave copy of test certificate with customer to prove sound installation. If an installer does not complete cross bonding to the meter the homeowner must be notified in writing to arrange a competent person to complete
10. Facilitate firmus energy inspections, executing any necessary remedial works within 14 days and promptly submitting evidence of completion
11. Provide customer with full operational instructions for the boiler & controls and contact details of the boiler manufacturer in the event of a breakdown, ensuring customers are aware of terms and conditions of any extended boiler warranty offered
12. Explain correct system operation to customers, explaining all controls and advising on the optimum settings for their household
13. Cooperate with firmus energy in relation to customer queries and complaint handling. Take responsibility for any work completed and remain calm & patient during investigation
14. Provide "out of hours" warranty service provision, and customer service and complaint handling. Advise firmus energy of any closures exceeding 2 working days and provide contact details of agreed cover during these periods
15. Attend firmus energy installer events and updates. Encourage the use of natural gas appliances. Promote the latest firmus energy marketing campaigns, actively engaging in marketing activity to enhance sales opportunities. Display firmus energy branding on vehicles. Provide testimonials as required
16. Complete follow up calls within 30 days of installation to ensure customers are satisfied, asking for referrals and testimonials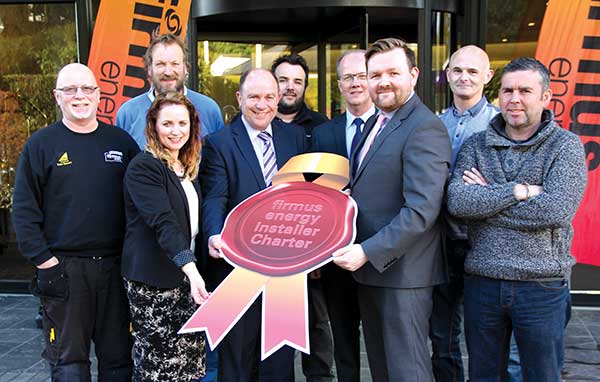 The firmus energy installer charter is renewed in April each year, any installer who fails to comply with our charter will be removed from our installer list. Non-compliance with any of the above may result in immediate suspension. Installers must cease to use materials featuring the firmus energy logo, not limited to vehicle logos, uniforms and marketing materials regardless of funding source.
---
The response time for reply to your query is 24 hours (Excluding weekends and Bank Holidays).
If you have an Urgent Query, please contact our customer services team on: 0330 024 9000