Rising Energy Costs – Supporting Our Customers
---
04/04/2022
We understand that many of our customers are feeling worried about the rising cost of energy. That's why we've pulled together some information to help you understand what's happening – and find out how we can help.
Why have natural gas tariffs have increased?
Global Wholesale gas prices have increased significantly since 2020. We do not have any control of these global wholesale prices and are unfortunately subjected to this current volatile global market. All suppliers buy natural gas from the same source as there is no other alternative trading platform.
All energy sources are currently experiencing unprecedented increase in cost
Since December 2020 the average Within Day gas price has increased by 535%. The average Within Day Price in December 2020 was 47.12 p/therm, in March 2022 it was 299.24p/therm.
This has happened incrementally throughout 2021 and within day prices went as high as 426 p/therm in December 2021 and 507 p/therm on 7th March 2022.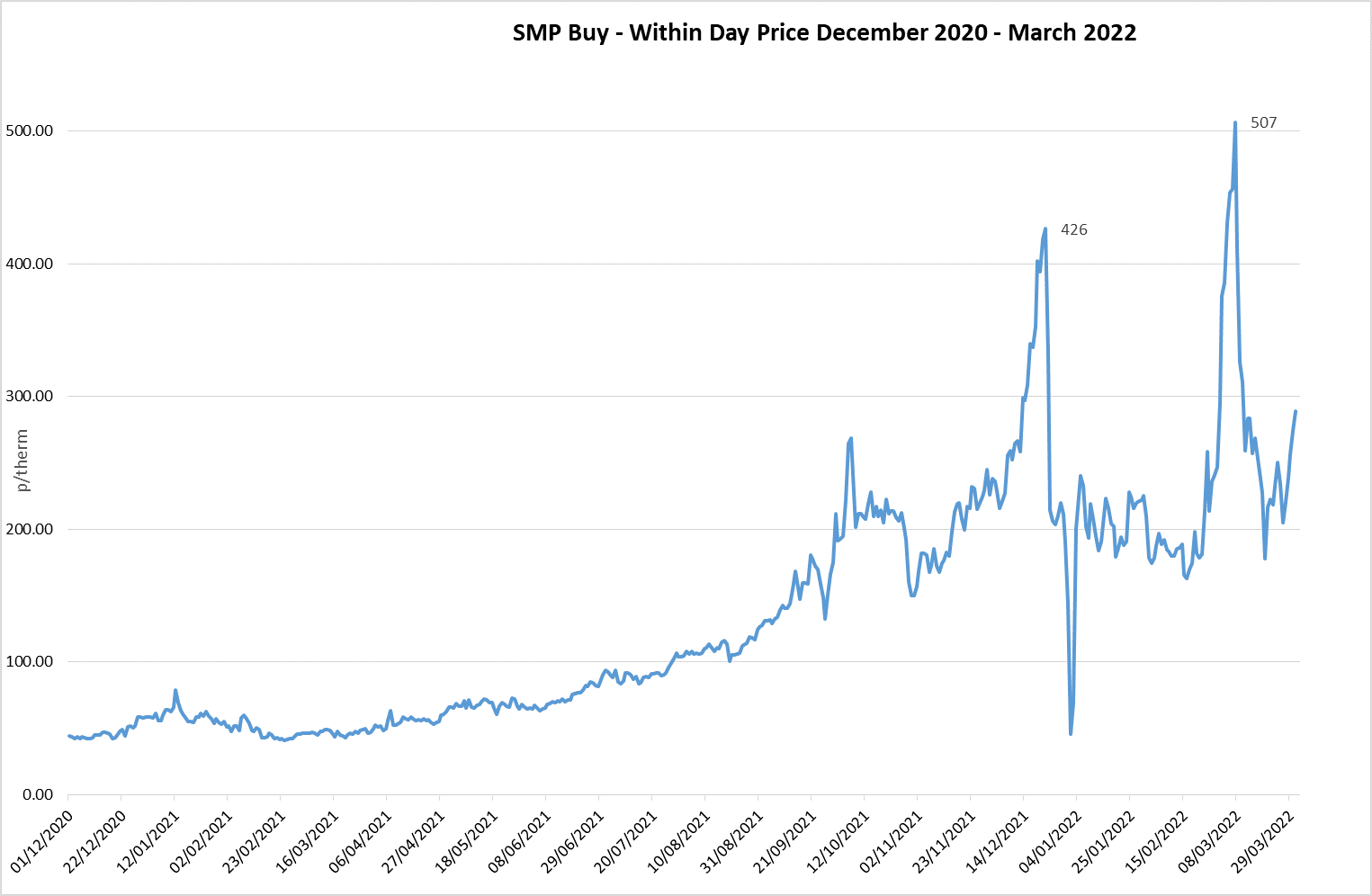 Gas prices have been impacted by several factors since the beginning of 2021.
In Europe, it was particularly cold during the second quarter of 2021 and this left stocks of natural gas well below normal levels. Over the summer months indigenous gas produced in Europe is usually used to bolster these stocks. Liquified Natural Gas (LNG), which is shipped in from other countries, is then used to balance the system in the short term.
Post pandemic economic recovery in Asia lead to increased demand for natural gas. Failing Hydropower in South America caused prices of LNG to increase which lead to LNG cargoes being directed to Asia instead of coming to Europe.
The wider European gas network experienced high levels of maintenance, both planned and unplanned over the summer months. This reduced the amount of excess gas available while this maintenance was carried out. Adding to this, low wind levels increased the gas for power demand. Both of these factors impacted the amount of gas available to replenish European stocks over the Summer months.
Low storage levels and a lack of LNG made the market nervous regarding Winter supply levels in the run-up to the Winter 21/22 contract starting, this pushed prices up. The market has shown it is comfortable when storage levels are at least 85% full entering the winter season (October – March). European storage was 50% full in December 2021. There was fear that European storage could be completely depleted before the end of Winter 21/22 leaving a demand/supply deficit.
In the last few months, gas markets reacted to the growing tensions on the Ukrainian border coupled with a reduction in Russian flows to Europe. Russia supplies c.40% of European natural gas demand, with c.5% of UK demand being satisfied from Russian gas. Russian supplies will influence global prices. On 22 February 2022, Germany halted certification of the Nord Stream 2 project after Russia sent troops into the rebel-held areas of Eastern Ukraine. Russia can flow gas into Europe through a number of other operational pipelines, however, has only booked the minimal amount of capacity required to flow through these pipelines and in recent months has continually decreased these flows. Russia has the ability to greatly ease, or further squeeze the European gas supply position and therefore significant price volatility remains within the global gas commodity market.
Current unprecedented high gas prices are a direct result of what the market has feared for months - the Russian invasion of Ukraine. As the fighting intensifies, the market is becoming increasingly concerned that gas flows to Europe could be impacted due to physical damage to infrastructure, sanctions or Russia withholding gas.
Do you have a monopoly on the market?
No we don't. The Ten Towns tariff is regulated and has been open to competition since 2015. No other suppliers have decided to enter the marketplace. The Utility Regulator along with the Department for the Economy and the Consumer Council scrutinise tariffs prior to each announcement. Our operating costs are subject to scrutiny by the Utility Regulator through a mechanism known as a price control review. If another supplier enters the marketplace you would be free to switch.
In the Greater Belfast and Gas to the West network areas there are other supply companies in the marketplace.
How is the tariff built up?
Our regulated tariff build up is set out in the pie chart below, detailing the percentages the different elements make towards the final price for customers. This is dominated by the green section which is the wholesale gas cost element, which unfortunately, we have no control over. Transmission and Distribution costs are regulated network use charges, payable by all suppliers; opex is the cost to keep our business running, and the 2% margin, again regulated, is determined by the Utility Regulator as a fair return on our business activities.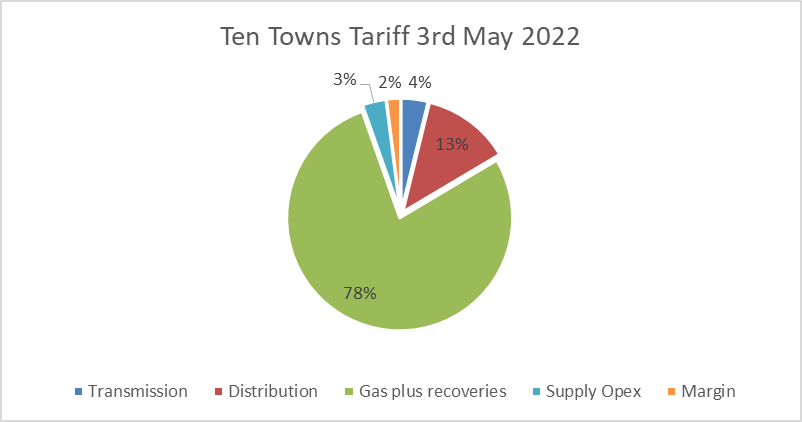 How much have wholesale gas prices increased?
Global Wholesale gas prices have seen increases of 542% in the last 12 months. The average Within Day Price in March 2021 was 46.60 p/therm, in March 2022 it was 299.24p/therm.
Why haven't you done more to limit these cost increases?
We continually seek to deliver the best value for our customers and make every effort to limit the impact of these cost increases on our tariff.
Global wholesale gas prices rise and fall on a daily basis. Buying gas on any one particular day risks committing to a more expensive price. So, over a longer period we gradually buy gas to meet our customers' needs and protect them from price spikes. This is known as hedging. Throughout 2021, average natural gas prices have increased significantly which has led to an overall increase in costs as reflected in our tariff prices. These price rises have come off the back of historic lows in the price of natural gas.
Will you increase or reduce prices again in the future?
firmus energy's tariff is impacted by global wholesale gas prices. While we don't know what energy markets will do in the future, we'll maintain our commitment to passing on any reduction in tariffs as quickly as possible. If wholesale gas prices continue to increase this will need to be reflected in our future tariffs.
We review our gas prices in consultation with the Utility Regulator at least every six months.
We are committed to reducing our prices as soon as possible. If we have to increase our prices, it will only be as a result of increased costs to supply gas to you. The Utility Regulator will review and approve this to ensure pricing is transparent and fair.
Is Gas more expensive than oil?
Today, just like on average over the last 10 years, gas and oil prices are very similar. All natural gas installations include High Efficiency condensing gas boilers, a system flush out, and treatment, along with a full set of controls. These measures lead to a significant reduction in energy use over the previous heating system. This energy-saving is on top of the main benefits of natural gas which include constant hot water, instant radiator heat, more space and never running out making it the fuel choice for many.
What about the future of Natural Gas as it's a fossil fuel?
All oil to gas conversions achieve up to 52% less carbon emissions when switching from a 15-year old Sedbuk F boiler without controls to a new Sedbuk A natural gas boiler with heating controls used correctly.
firmus energy's existing underground Polyethylene (PE) gas pipes in Northern Ireland are suitable for transporting renewable gases like Biomethane (which can be produced at Anaerobic Digester plants) and Hydrogen in the future. These sustainable gases will assist Northern Ireland in delivering net zero carbon by 2050. All existing gas boilers can be used along with Biomethane and up to a 20% blend of Hydrogen and you will not need to change any of your appliances to benefit from this renewable gas.
What do you advise me to do?
With all fuel prices increasing, and the cost of living rising, it's important that we use energy wisely. It is time for all of us to rethink our energy consumption and learn to use energy wisely. Below are some energy saving tips.
Energy Efficiency Tips
| | |
| --- | --- |
| | Keep your room thermostat (usually in the hallway) to a temperature that you feel comfortable with (normally 21oC ). Homes could save up to £80 per year by turning their thermostat down by 1oC. |
| | Set your thermostatic radiator valves in each room to a temperature that suits your circumstances (not always to be set at maximum). |
| | Check that your heating timer is set at the correct times/days that you require heat. |
| | Set the central heating and domestic hot water output temperatures of the boiler to your desired heat level. |
| | Reduce time in the shower. |
| | Ensure your gas boiler is serviced each year to ensure boiler efficiency. |
| | Consider getting advanced controls fitted which allow you to keep in control of your heating whilst out and about or from the comfort of your home. |
I cannot afford to pay for the gas I need what support is available?
We understand at this time some people may find themselves in unexpected financial difficulty. There are many organisations who may be able to help you. Contact details of free, impartial debt advice bodies are available below.
If you are concerned about paying your natural gas bill, we will do our best to help. Get in touch with our credit control team on 0330 024 9000. We will work with you to come to a suitable arrangement which might include a repayment plan to spread your bills over a period of time. We will work with you to agree an amount you are able to pay, taking into account your individual circumstances. We will be flexible and work with you to try to find solutions.
If you're already on a debt repayment plan, we might be able to adjust this in line with your circumstances. Our Code of Practice on Payment of Bills* outlines the actions we can take to help domestic energy customers with their energy bills and avoid/manage potential debt.
External organisations that might be able to provide further help are listed below
Organisation

Address
Contact Information
The Consumer Council
Floor 3, Seatem House,
28-32 Alfred Street,
Belfast
BT2 8EN

Freephone: 0800 121 6022

Email: contact@consumercouncil.org.uk

Website:
consumercouncil.org.uk/coronavirus/energy-advice

Department for Communities
Causeway Exchange
1-7 Bedford Street,
Belfast
BT2 7EG

Freephone: 0808 802 0020

Email: covid19@adviceni.net or

Text: ACTION to 81025

Website: adviceni.net/advice

Advice NI
Forestview, Purdy's Lane
Newtownbreda, Belfast
BT8 4AR

Telephone: 0800 028 1881

Website: adviceni.net/advice

Email: debt@adviceni.net

Age NI at Advice & Advocacy Service
3 Lower Crescent, Belfast
BT7 1NR

Freephone: 0808 808 7575

Website:
ageuk.org.uk/northern-ireland/information-advice/coronavirus-covid-19/

Action Mental Health
27 Jubilee Road, Newtownards
BT23 4YH

Telephone: 028 9182 8494

Website: AMH.org.uk/coronavirus

NIE Networks

120 Malone Road,
Belfast
BT9 5HT

Medical Customer Care Register

Website:
nienetworks.co.uk/help-advice/vulnerable-customers/critical-care-register

Northern Ireland Water


Westland House
40 Old Westland Road
Belfast
BT14 6TE

Customer Care Register

Website: niwater.com/customer-care-register

Christians Against Poverty
103-113 Ravenhill Road,
Belfast
BT6 8DR

Telephone: 0800 328 0006

Website: capuk.org
The question I have isn't here? If you would like some free, independent local support, you may find it helpful to contact Advice NI, who provide a range of free money advice services. You can contact them by calling 0800 915 4604, Monday to Friday, 9am to 5pm or emailing advice@adviceni.net. For more information visit adviceni.net. They're also operating the NI Covid-19 community helpline on 0808 802 0020 or at covid19@adviceni.net.
If you have a question that is not covered here, please visit contact us by email at info@firmusenergy.co.uk by calling us on 0330 024 9000.