Looking back 2020 was certainly unique but despite the disruption and the obvious concerns for our health and the health of our loved ones it hasn't been without its plus points. For many, it was a time of reflection, of working out what's important, spending quality time with loved ones and reconnecting with community life in the places we live.
This time of self-reflection often is the start of new healthier habits and of new ways of living and that's certainly something that Jemma McKee, energy advisor with firmus energy has witnessed in her interactions with customers since the start of the Corona Virus pandemic.
Here Jemma chats about her job and her role at firmus energy and discussed her hopes for the future as we begin to see pandemic restrictions gradually ease.
What does your job entail?
My role involves connecting homes to the firmus energy network in the North East area of Northern Ireland. I am one off eight energy advisors that cover firmus energy's natural gas network and I help over 400 customers per year convert from oil to natural gas. It's essentially a customer focused role which I love as I'm very much a people person.
What does customer service mean to firmus?
I work very closely with firmus energy's customer services team which is widely known as being the one of the best and most responsive in Northern Ireland. Each year this team handles over 15,000 customers enquiries and all manner of questions. It's great to have that weight of experience behind me when I'm talking to customers and it makes my job easier to know customers will receive first class support.
Did you always want to be an Energy Advisor?
I knew I wanted to work with people. I have a Sociology degree from Jordanstown which in its most basic form is the study of people. I spent my early career in retail and joined firmus energy in 2018 as a member of the customer service team and progressed into the energy advisor role eight months later. It's a very exciting time to be working in the energy industry with so much pioneering work being carried out to safeguard the future with renewables gases, the likes of Biomethane and Hydrogen being explored.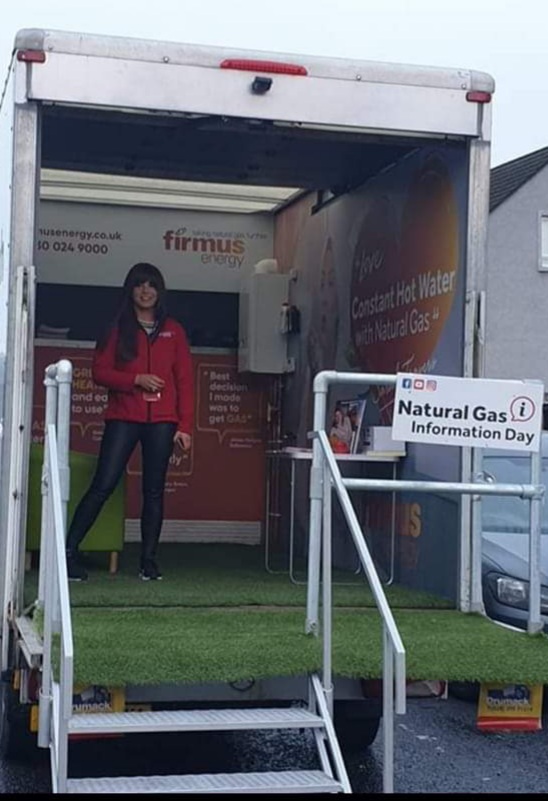 What's it like to work in firmus energy?
firmus energy is a great company to work for. It's really focused on recruiting the right people and then providing opportunities for those people to grow within the business. Personal development and internal career progression is really important. It conducts its business around four key values clarity, empathy, integrity and teamwork and everyone lives by those values. When many other companies were being forced to make tough decisions and furlough staff over the past year that was not on the cards at firmus energy. I can honestly say the management team were really supportive. It was a very worrying time and I was hugely grateful for that.
What's your career progression?
My first job was in customer services and eight months later a position as an energy advisor became available. When I was considering moving to the energy advisor team the company allowed me to shadow an energy advisor for a week before applying for the position. That way I understood the role fully before making the change. It was a great opportunity and it made the move really easy.
What do you attribute your success to?
Determination, passion and honesty but in my role you have to love working with people. I really enjoy talking to customers and helping them through the natural gas installation process. They always have lots of questions which I'm more than happy to answer.
What are customer's most common questions?
The most frequent question is how long it will take to get natural gas, how much extra space will they get in their house and garden and will it be messy! The answer to the first question depends on whether they live in an area that we have a pipeline. If that's the case we can connect them very quickly. People are also surprised at how much space they can reclaim when the oil tank in their garden is removed as well as all the pipework and water tanks in their house. I think working from home has lead people to re-evaluate their living and outdoor space. We have definitely seen an upsurge in people making home and garden improvements and making their space at home much more liveable and I think that's because we are spending so much time there. I think the pandemic has forced people to re-evaluate how they are living their lives and what is important to them and certainly, from conversations with customers, it's about having a nice place to come home to and to welcome family and friends. Natural gas is also really easy to install. Often the installer is in and out within a day and there's very little trace of them being there. More recently there have been questions around whether natural gas is better for the environment than oil and the answer is a resounding yes!
Why is natural gas better environmentally?
When people switch from an inefficient oil boiler to a high efficiency condensing gas boiler and controls they can immediately reduce their carbon emissions by an amazing 48%*. This is because natural gas has lower carbon emissions than oil and you use less energy by installing a high efficiency natural gas boiler and controls. I'm finding that people of all ages are much more environmentally aware these days and they want to do their bit for the environment. Of course the government has its own environmental targets to meet and firmus energy is helping by enabling immediate carbon savings to be realised once customers convert from oil. The company also has wider plans to inject sustainable renewable gases like Biomethane and Hydrogen into its existing network in the future.
Over 100,000 natural gas customers have already made the switch away from oil and it's only a matter of time before others follow suit. Really, the only factor customers need to decide is when to make that move, and with lockdown restrictions still in place, many people are making it earlier so that they can take advantage of the benefits of having natural gas - constant hot water, instant heat, cooking, more space in the home and garden and long-term savings as smart controls give people full control of energy usage.
What's next for firmus energy?
While we are very lucky to have been pretty much business as usual, I have missed the physical interaction of meeting customers. We have been meeting customers over Zoom and telephone now for over one year so as the lockdown restrictions ease I am really excited to get back out and meeting people in person, when the time is right. I'm also really hopeful that we will get some good weather and be able to get out and about, maybe even hold some information and installer events to promote natural gas and some of the exciting initiatives that we have in development to build a clean and greener future for Northern Ireland.
Over 100 new customers convert from oil to natural gas each week and enjoy the benefits that natural gas brings - from constant hot water, instant radiator heat and cooking to more space in the garden, more efficient boilers to simply being a better choice for the environment. Homes and businesses interested in making the switch to firmus energy natural gas can find out more by calling 0330 024 9000 or visiting www.firmusenergy.co.uk