Gareth Austin - Double the colour…from one plant!
As gardeners, we know some plants are prized for their flowers, some for their structure and others for habit, form etc. Some plants have more than one desirable feature…a great plant you could add to your garden is the Witch Hazel.
In addition to having the fabby early spring flowers, which are wonderfully scented, Witch Hazels also have spectacular golden autumn foliage.
I've long been a fan of Witch Hazels, their growth habit and shape is nice and 'tight' in the garden, so it's useful for small gardens where space can be at a premium, and the open nature of the crown allows for lots of planting opportunities below – so no space is wasted in the garden.
The colourful spider-like flowers are welcome in the early Spring months when flower colour can be in scarce supply and in those calm frosty days the scent hangs about in the garden when the sun warms the flowers – and in larger gardens the flower colour is bright enough to make the plant stand out in a deep border.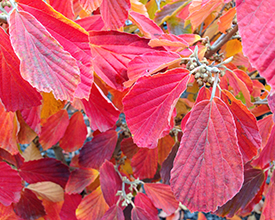 Cost-wise a Witch Hazel will be a considered purchase, expect to pay £30 for a nice sized plant, so this is definitely what I often refer to as a feature plant, by this I mean a key plant which is used sparingly in the garden, and is surrounded by groupings of plants.
Although commonly seen with golden flowers in good garden centres you will also be able to find varieties with pale yellow, orange and red flowers – so in a large garden you may wish to add a few different varieties to the garden to extend the scope of interest, and with the flowers being borne on bare stems there's no foliage to hide the flowers.
All have green foliage which spectacularly colour up in the Autumn.
Just think about a spectacular Witch Hazel in the corner where your oil tank is…..
With natural gas, there is no need for that massive oil tank taking up valuable garden space. Interested in connecting to natural gas home heating? Enter your postcode below and click the 'Can I Connect' button.

Connect with Gareth
Gareth Austin is a broadcaster and lecturer in Horticulture. Join Gareth on Twitter @GardenerGareth or connect via Facebook to enjoy his regular adventures in the world of Horticulture. www.garethaustin.com