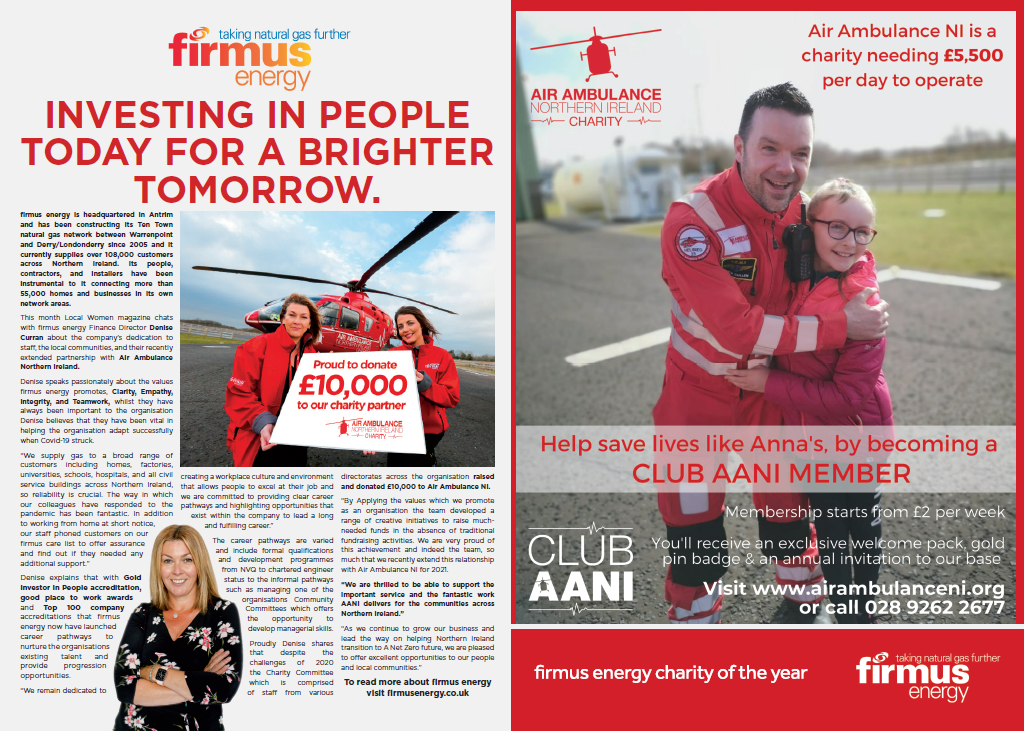 firmus energy is headquartered in Antrim and has been constructing its Ten Town natural gas network between Warrenpoint and Derry/Londonderry since 2005 and it currently supplies over 108,000 customers across Northern Ireland. Its people, contractors, and installers have been instrumental to it connecting more than 55,000 homes and businesses in its own network areas.
This month Local Women magazine chats with firmus energy Finance Director Denise Curran about the company's dedication to staff, the local communities, and their recently extended partnership with Air Ambulance Northern Ireland.
Denise speaks passionately about the values firmus energy promotes, Clarity, Empathy, Integrity, and Teamwork, whilst they have always been important to the organisation Denise believes that they have been vital in helping the organisation adapt successfully when Covid-19 struck.
"We supply gas to a broad range of customers including homes, factories, universities, schools, hospitals, and all civil service buildings across Northern Ireland, so reliability is crucial. The way in which our colleagues have responded to the pandemic has been fantastic. In addition to working from home at short notice, our staff phoned customers on our firmus care list to offer assurance and find out if they needed any additional support."
Denise explains that with Gold Investor in People accreditation, good place to work awards and Top 100 company accreditations that firmus energy now have launched career pathways to nurture the organisations existing talent and provide progression opportunities.
"We remain dedicated to creating a workplace culture and environment that allows people to excel at their job and we are committed to providing clear career pathways and highlighting opportunities that exist within the company to lead a long and fulfilling career."
The career pathways are varied and include formal qualifications and development programmes from NVQ to chartered engineer status to the informal pathways such as managing one of the organisations Community Committees which offers the opportunity to develop managerial skills.
Proudly Denise shares that despite the challenges of 2020 the Charity Committee which is comprised of staff from various directorates across the organisation raised and donated £10,000 to Air Ambulance NI.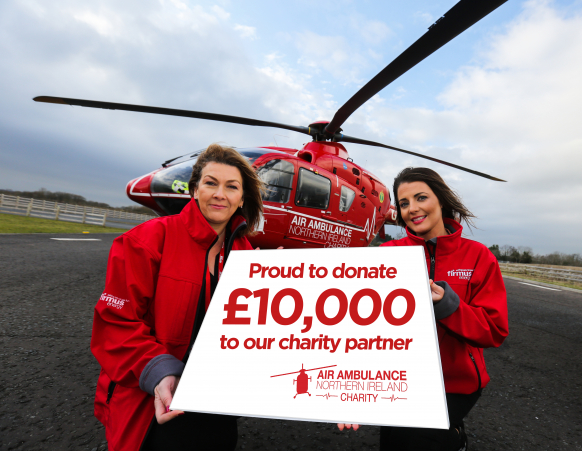 "By Applying the values which we promote as an organisation the team developed a range of creative initiatives to raise much-needed funds in the absence of traditional fundraising activities. We are very proud of this achievement and indeed the team, so much that we recently extend this relationship with Air Ambulance NI for 2021.
"We are thrilled to be able to support the important service and the fantastic work AANI delivers for the communities across Northern Ireland."
"As we continue to grow our business and lead the way on helping Northern Ireland transition to A Net Zero future, we are pleased to offer excellent opportunities to our people and local communities."