After months of working, living, and cooking in the house you'll soon be caught up outdoors in a frenzy of seed sowing, growing, and nurturing as spring reawakens your garden.
Do you dream of more space to enjoy your garden, space to relax, cook or entertain on those long summer evenings?
If so, did you know that natural gas will offer you a solution? If you haven't already got natural gas you can get more space at your place by installing it. That's because when you switch to natural gas from oil as well as removing indoor tanks you can also get rid of the oil tank and oil boiler in the garden – allowing you to reclaim a whopping c. 75sq feet of space from your home which opens up lots more space for all of your family. That's enough room for a greenhouse, an outdoor dining area, or even a fancy floral display!
Say Goodbye to your oil tank and Hello to your green fingers with fantastic florals, herb havens, and luscious lawns, with firmus energy you can!
firmus energy natural gas is the ultimate home improvement. Not only do you get more space at your place but you'll get all the normal benefits too including instant heat, smart controls, endless hot water, and the peace of mind of never running out. You'll also be doing your bit for the environment by reducing carbon emissions by up to 48%*.
Right now firmus energy has a number of brilliant offers making it even easier to switch. Choose from 0% finance which means you can spread the cost of installing natural gas over two years or £200 cashback.
So what are you waiting for? Find out if you can say Goodbye to your oil tank and gain more space at your place by heading to firmusenergy.co.uk/gas or calling the team on 0330 024 9000.
To date, over 100,000 customers now use natural gas supplied by firmus energy and are enjoying the benefits that natural gas brings - from constant hot water to more space in the garden, more efficient boilers to simply being a better choice for the environment. Homes and businesses interested in making the switch to firmus energy natural gas can find out more by calling 0330 024 9000 or visiting www.firmusenergy.co.uk
Getting your garden ready for spring should be a pleasure, so follow these Spring cleaning pointers to get more from your outside space this season.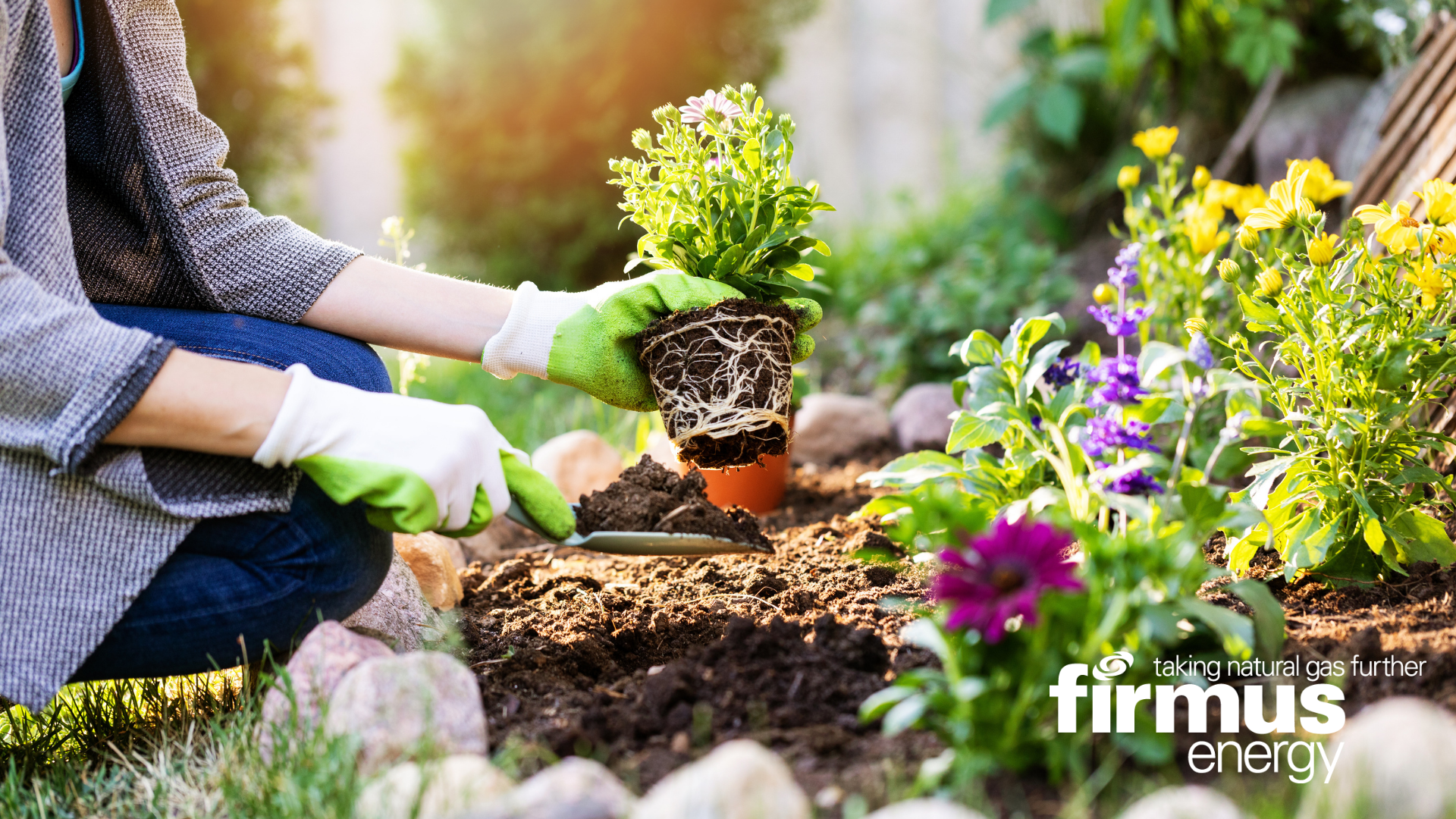 1. Sort your soil: Soil is the backbone of the garden. Without great soil, you can't grow great plants. Dig in plenty of organic matter when you prepare new beds. Add loose, bulky material like leaf mould for clay soils and rich compost for other types.
2. Tidy the trenches: Have a general tidy-up, removing leaves and other debris from flower beds and borders. You can cut back the old dead growth of deciduous grasses and perennials.
3. Sow your seeds: Sow summer-flowering bulbs and seeds now - it's the perfect task for a breezy spring day. Flowers such as Pansies, Lilies and Gladioli are perfect for early-spring planting.
4. Manicure your Lawn: Spring is a good time to feed and rake your lawn and scarify the ground. You can also use this time to level off any uneven areas and add new grass seed, to maintain any damages.
5. Trim and prim: Many plants could do with a little TLC to get them ready for spring. This might involve re-potting, moving to a more protected area of the garden, or trimming to encourage new growth.
6. Care for chairs: Whether made of plastic, wood, or rattan, your garden furniture will need some TLC. Start with a simple clean with some warm soapy water and a sponge to revive, if you use cleaning products, make sure you protect your plants.