The £650,000 network extension will pass more than 800 new properties and work has already been progressing well in Kensington Manor, Springfort Lodge and Gracefield Lodge.
The team has now commenced work at the A3 Roundabout before they move on to Cottage Road and subsequently installing a new mains pipeline on the Belfast Road. This is a continuation from last year's project which extended the network past the Dromore Road junction and on to the Beechcroft area for the first time.
The strategic development of the network in Dollingstown will allow firmus energy to bring natural gas to domestic and business customers in the village, many of whom have already expressed an interest in connecting, and also strengthen security of supply for existing customers in neighbouring towns and villages by extending Lurgan's gas infrastructure past Gracefield Lodge and connecting it with existing gas infrastructure in Magheralin.
firmus energy has established a strong and loyal customer base within the local area. In 2018, local packaging firm on the Inn Road, Hutamaki switched from oil to natural gas. Other surrounding business customers include Glanbia, Smurfit Kappa, Regal Processors and Almac.
Whilst work is being carried out on the A3 Roundabout, traffic management will be in place with temporary traffic lights phasing the flow of traffic to minimise disruption. Work may also be required on Saturday mornings.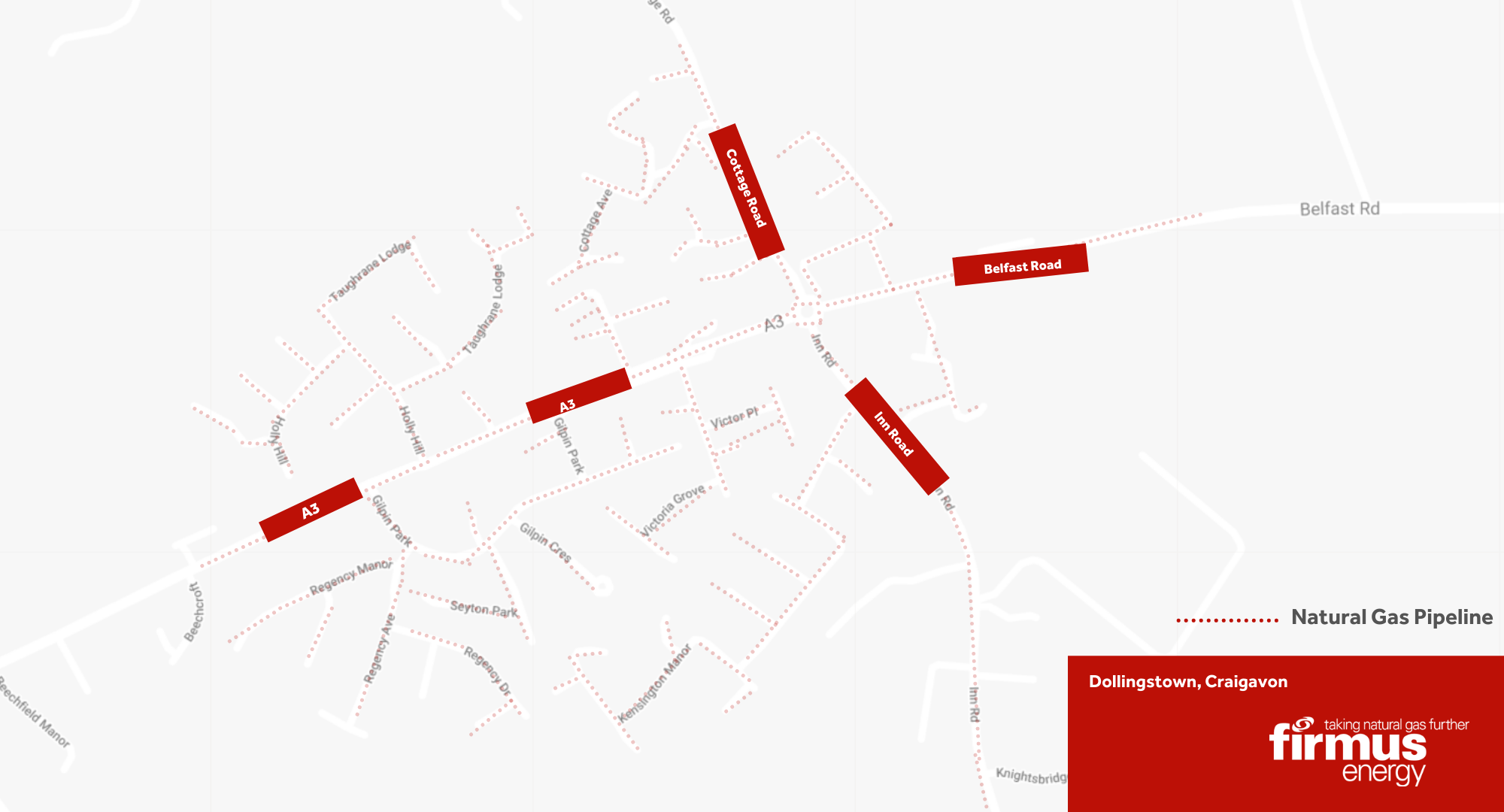 Once the work programme commences on Cottage Road a full road closure will be required and appropriate diversions and signage will be in place.
Bernard Merron, Project Engineer for firmus energy said:
"As a result of local demand, particularly from local businesses and domestic customers in the Dollingstown area, these works are necessary to progress the extension of our natural gas network. It will allow us to bring the environmental benefits of this cleaner energy source to more homes and businesses in the area. By making the switch from oil to natural gas customers will immediately reduce their carbon emissions by 48%1. This stage of work will immediately bring natural gas to 800 residential and commercial properties with an investment in excess of £650,000.
"We have engaged extensively with Transport NI, and other utility providers and agreed a traffic management plan for the duration of the work to minimise disruption to residents, businesses and road users.
"We would like to take this opportunity to thank the local businesses for their understanding and co-operation and we will continue to work with all the appropriate authorities and make every effort to ensure that any disruption is kept to an absolute minimum."
firmus energy has engaged with a range of key stakeholders, including local residents, political representatives and business representatives on their plans to extend the network, which will bring the benefits of natural gas to the village.
Established in 2005, firmus energy supplies natural gas to over 100,000 homes and businesses throughout Northern Ireland.
Should you have any questions or concerns on the upcoming construction works, please contact the firmus energy customer careline on 0330 024 9000.
Ends
For more information, please contact Johnny Stewart or Kelly McVeigh at Open Strategic Communications.
Johnny – M + (0) 77 8545 8136 / E Johnny@oscni.com
Kelly – M +44 (0) 75 808 50224 / E Kelly@oscni.com
1 Estimate based on converting from inefficient oil boiler to efficient gas boiler and assuming annual average fuel consumption