Earlier this year our senior management team got together with Ulster Business magazine to discuss the significant growth of the business over the last decade and our hopes for a greener, cleaner future whilst remaining loyal to our values of delivering great customer service and local expertise across Northern Ireland.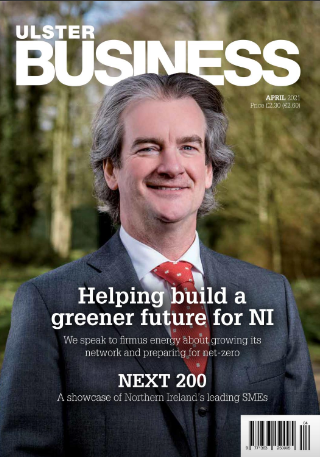 Here's a snippet of what Michael Scott, managing director, and Eric Cosgrove, director of engineering and sustainability, had to say about our exciting plans for the future.
firmus energy has grown into a Northern Ireland natural gas business supplying more than 105,000 customers and connected more than 50,000 customers to its network.
For Michael, it's clear firmus energy's strengths emanate from its position as a local, Northern Ireland-based business – but one which is expanding, growing, and playing its part in the future green economy.
Michael says one of the company's main strengths, and what helps it stand out from the crowd, is that all staff are trained to City & Guilds standards in energy efficiency. That allows its staff the ability to engage and assist customers in what they can do to lower their carbon footprint and ensure they are getting the best advice possible regarding their own energy needs.
It also boasts a 24-hour customer service support line, with a 98% satisfaction rate, and has achieved the Investors in People Gold award. In 2019 the company was awarded Gold Standard in the Business in the Community Environmental Benchmark Survey and more recently named as the top energy supplier in Northern Ireland for 2021, by consumer publication 'Which?'.
"We ensure we keep satisfaction levels very high, and we have exceptional customer service. If you contact us, you come through and speak to a person, based at our offices in Antrim. That allows customers to sort queries from connectivity, to installation and billing.
Looking towards the decades ahead, Eric Cosgrove says that with an already well-established gas network infrastructure, it can both extend the reach of natural gas to customers here, while then looking towards blending other gases into the network as it, along with the rest of Northern Ireland, aims towards a net-zero carbon emission future.
Looking ahead, Michael says further expansion of the network and customer connections "We started with the '10 towns'. We've extended that reach to 35 towns and cities in Northern Ireland. And looking forward, the gas network will be key to a zero carbon future for us all."
Check out the full feature here.